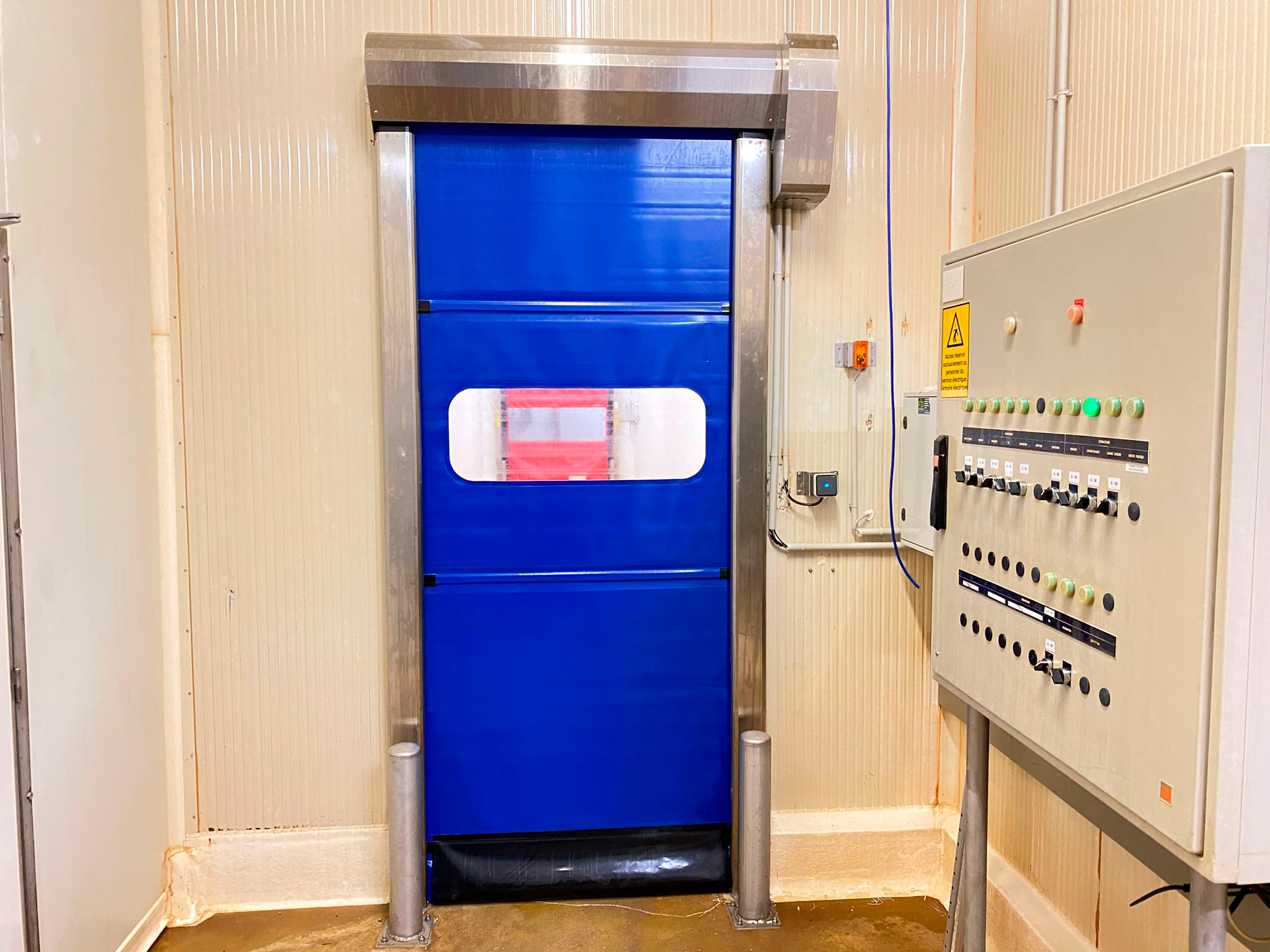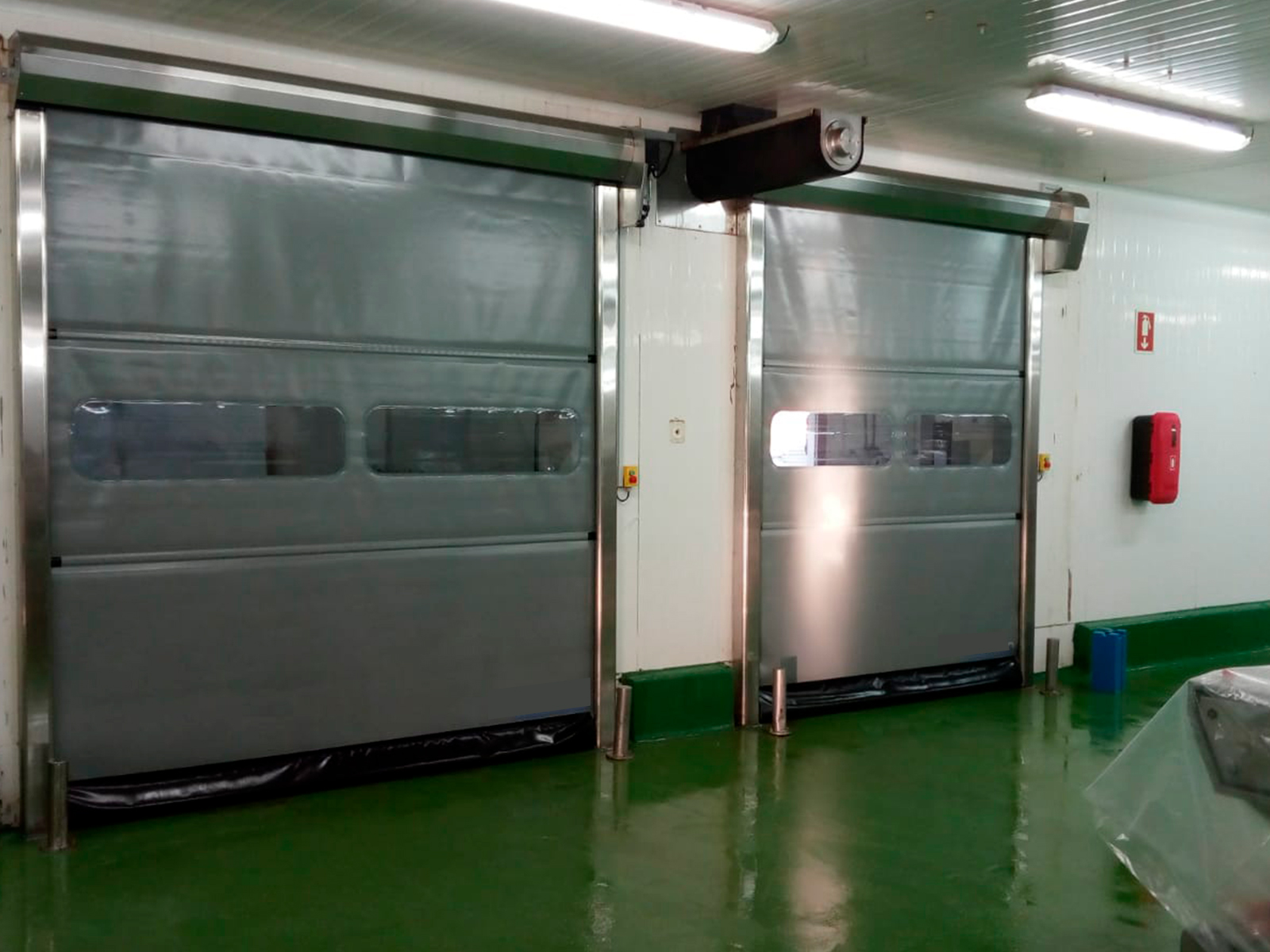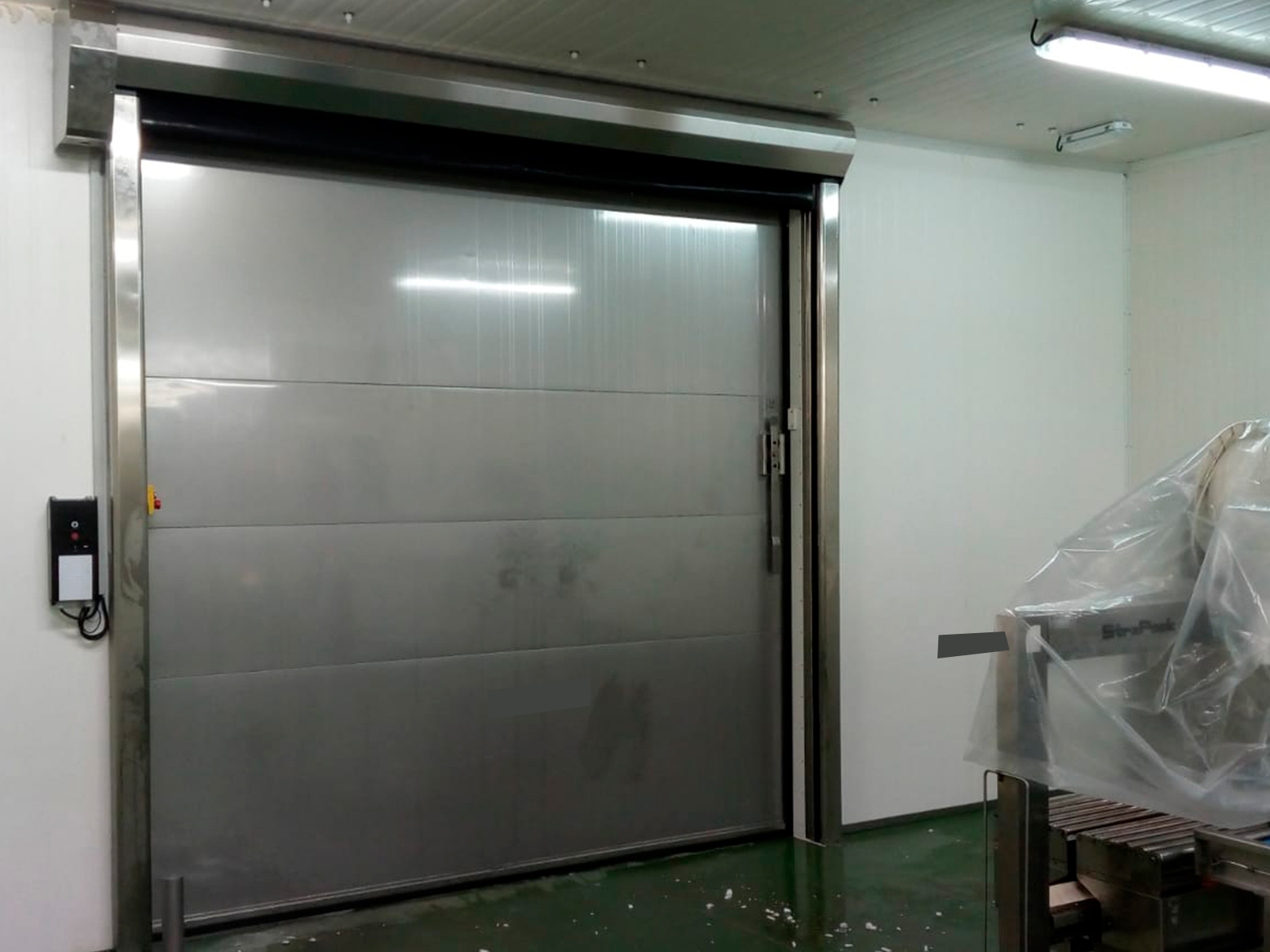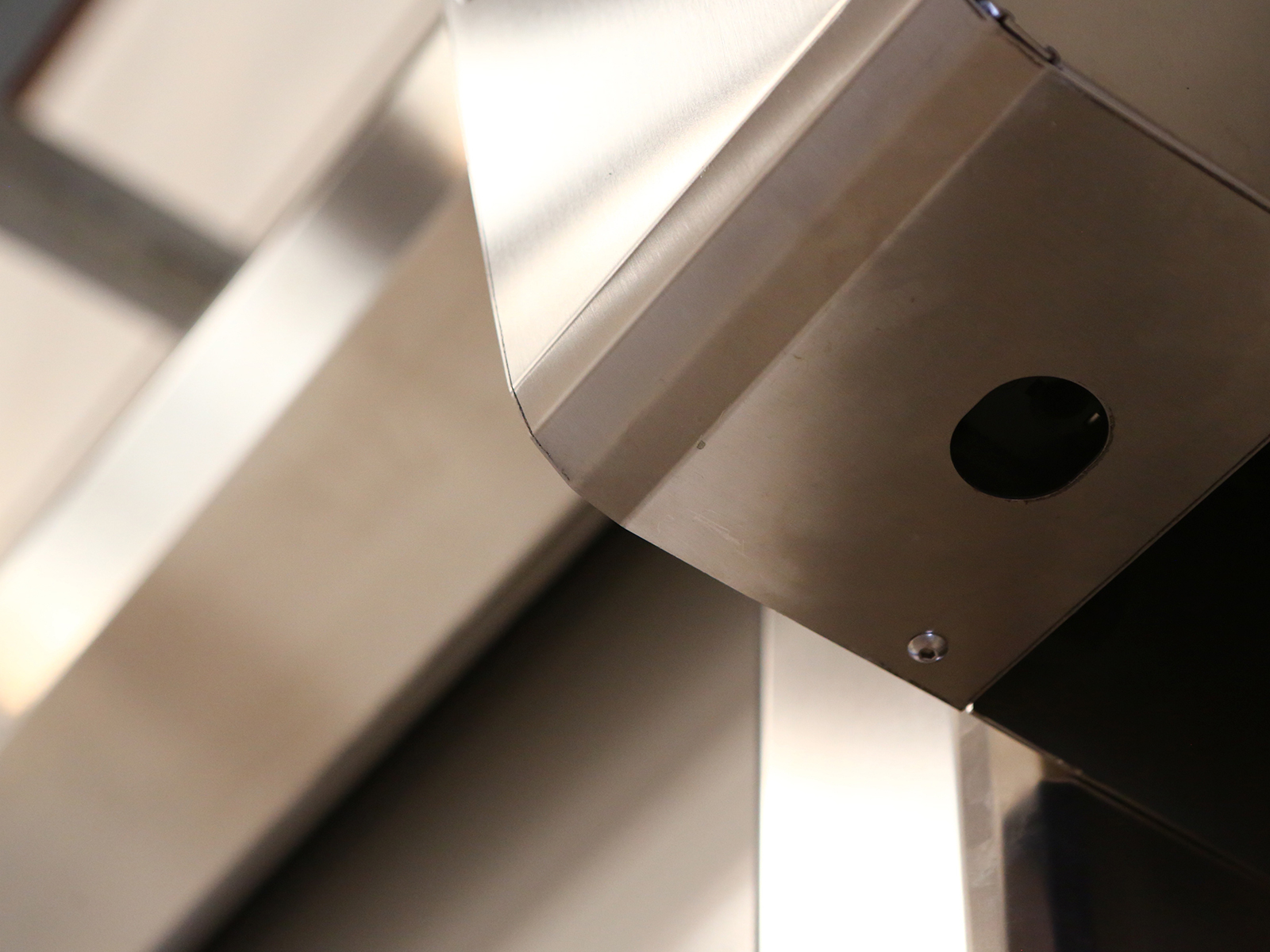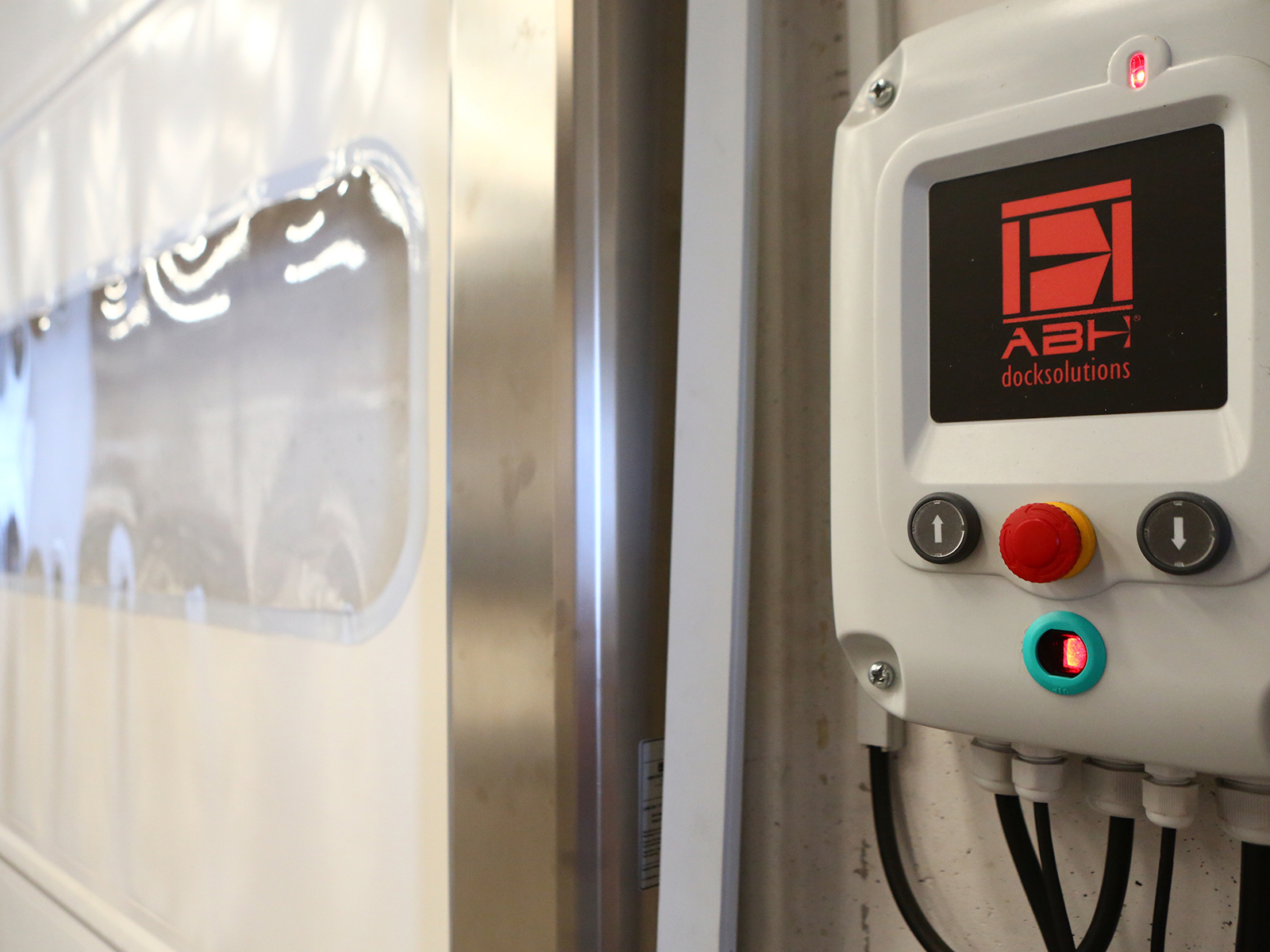 PRINX



STAINLESS STEEL HIGH-SPEED ROLL-UP DOOR
Designed for installation in the most demanding food industries (dairy, meat, fish…) and in saline, corrosive environments and where special cleaning with chemical products is required.
It stands out for its stainless steel finish, both the structure (stainless steel 304 or 316), as well as the hardware and screws, and the bearings are also made of stainless steel.
corrosion inhibitors. The high quality canvas (weight 950 gr/m2) is equipped with composite reinforcements, which do not rust and are deformable.
In case of impact, the tarpaulin can be repositioned immediately.
Also, the guides are equipped with photocell barriers (they reduce impacts almost 100%) and
polyethylene pieces for the sliding of the tarpaulin, instead of brushes that fall off easily, dirty the passage area and can fall on the food, damaging the goods and causing serious problems.
ADVANTAGES
Carefully designed, completely anti-corrosion, aesthetic finish (100% stainless steel).

Hygiene and cleanliness guaranteed (components protection degree > IP65).

Light barrier protects passage areas and offers maximum security.

Highly reliable, durable, high-performance motor and control panel.

Quick, easy assembly with pre-installed, tested components.

Easily programmable control panel that requires barely any maintenance.
ACABADOS
Tipo
Autoportante
Guía
Acero Inoxidable 304 o 316
Dintel
Acero Inoxidable 304 o 316
Eje
Aluminio
COMPONENTES
Rodamientos
Anticorrosivos
Deslizamiento
Piezas polietileno (sin cepillos)
Herrajes
Acero Inoxidable
Tornillería
Acero Inoxidable
CALIDAD
PVC
Nylon entretelado muy resistente
Gramaje
950 gr/m3
Espesor
1 mm
Tratamiento
FR - Auto extinguible - UV
CUADRO
Color
Amplia gama colores stock
Mirilla
1 fila de Mirillas Transparente (otras configuraciones opcionales)
Refuerzos
Rígidos
Zócalo
Negro - Flexible - Ajuste perfecto suelo
MOTOR
Motorreductor
Electrofreno Alto Rendimiento
Grado Protección
IP65 de serie - Cubre motor Inox (opcional)
Desbloqueo
Manivela
Posición
Encoder Absoluto
CUADRO
Programación
Ajuste finales cuadro con pantalla Display
Grado Protección
Caja estanca IP65
Alimentación
3x400 Vac-50/60 Hz - Opcional: 1x230Vac -50/60 Hz
Velocidad
Apertura 0,9 m/s - Cierre 0,9 m/s
ENSAYOS
Normativa
UNE-EN 13241:2004+A2:2017
Clase Viento
1
Ciclos Motor
750.000
Instalación
Interior
SEGURIDAD
Detección
Cortina Leds IP67 integradas guías
Apertura Interior
Botonera IP69 con Paro Emergencia
Apertura Emergencia
SAI (opcional)
Opciones Apertura
Radares, tiradores, mando, campo magnético…
STRUCTURE
INOX 304
316 STAINLESS STEEL
CUSTOMIZATION
Sight glass configuration
Silk-screen printing
Photo
Customer logo
OPENING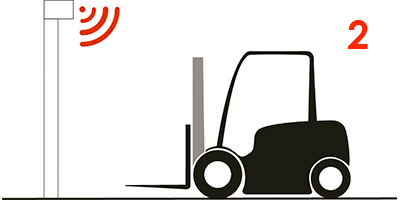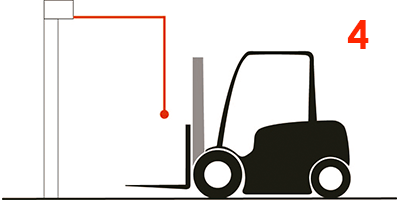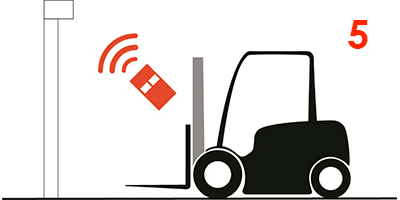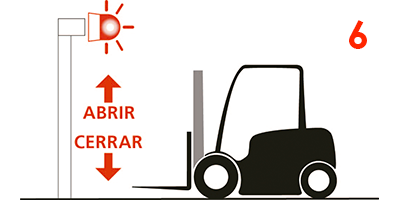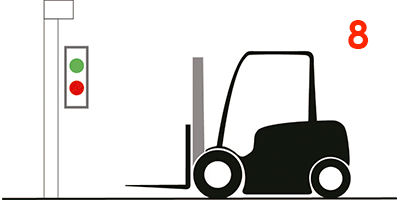 WHERE WE ARE
Monday to Thursday from 8 a.m. to 6 p.m.
Friday from 8 a.m. to 2 p.m.